The doors open to an event that keeps on growing – welcome to our preview, part one.
LONDON CALLING
More than 3,500 industry professionals are scheduled to attend the Caffè Culture Show – the premier trade event for the café and coffee bar market. Held at London's Business Design Centre in Islington, the show launched in 2006 and encompasses talks, competitions, training, workshops and more.
It's a unique opportunity to gain access to a huge resource of experts and specialists. An interactive programme is free to all, including two days of panel discussions, a Roasters Zone, barista competitions, brew bar and speciality tea hub.
New features and partners are on board, including United Baristas founder Tim Ridley – delivering Total Coffee. Bringing together a range of practitioners and experts, actionable ideas will be discussed, alongside insights for baristas, managers and business owners. The four key themes that extend across the supply chain are:
Tasting and enjoying coffee
Building viable coffee businesses
Making a positive contribution
Empowering people.
Speakers include Ishen Paran, who oversaw tenfold growth as general manager at Oatly UK; Vanúsia Nogueira of International Coffee Organization, discussing sustainable development; and two-time UK Barista Championship winner, Paul Ross, from Special Guests. Now expanded across two days due to its growing popularity, the Roasters Forum – curated by Sucafina Specialty – covers a range of topics, offering essential guidance to both the novice and the more experienced.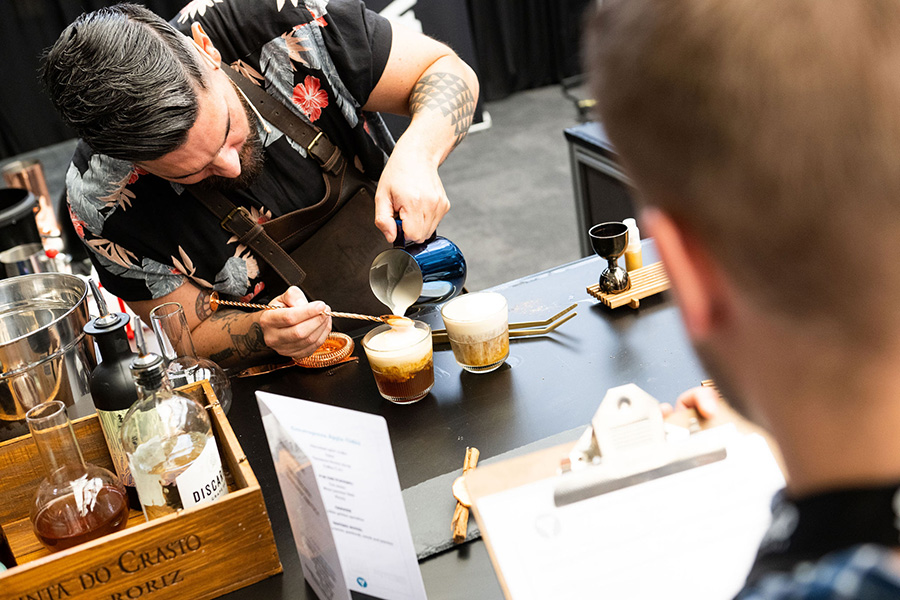 ART OF ESPRESSO
Of course, bakery food is a key sector, so kitchen equipment partner UNOX is serving delicious and nutritious fare. Check out the precision of their SPEED Pro range in the live kitchen. Another fully immersive, multi-sensory experience is Victoria Arduino's coffee shop concept, with experts guiding visitors through their revolutionary tech using taste, sound and sight.
Sixteen of the UK's finest roasters will perfect the art of espresso in the Roasters Zone, while the show also sees the launch of FoodBev's inaugural Coffee Innovation Awards, shining a light on excellence within the sector. From farms to roasting plants and cafés, these awards focus on cutting- edge advancements. Categories include 'Best Flavoured Roast', 'Best Coffee Flavouring Innovation' and 'Best Specialty Coffee Roaster'.
Competitive juices should also flow, thanks to three new championships. The Specialty Coffee Association's (SCA) UK Brewers Cup final and European Speciality Tea Association's (ESTA) inaugural Tea Cupping and Matcha Tea Latte Art competitions.