Our exclusive two-part preview of lunch! kicks-off with a focus on plant-based exhibitors and new products set to shine at the Innovation Challenge.
ExCeL London is primed and ready for the co-located shows, Casual Dining, Commercial Kitchen and lunch! – 27-28 September. It's a key opportunity to enjoy insight, inspiration and the latest products and services for restaurants, food to go, cafés, pubs, bars, contract caterers and so much more.
Enjoy seven free theatres of content, with high-profile presenters and panel discussions covering the industry's most pressing issues, with the full programme to be confirmed.
A HEALTHY PERSPECTIVE
Plant-based food and drink is a vibrant market. According to a recent Bloomberg Intelligence report, the global plant- based food sector is expected to grow at a compound annual growth rate of 11.9% to reach $74.2 billion by 2027. So, which products should you keep an eye on at lunch!?
MILKS & CHEESE
Gone are the days when soya was the only plant-based milk alternative. Now, the market is filling with interesting substitutes made from a range of nuts and legumes.
For coffee-shops and cafés, many brands now have 'barista' editions, especially formulated to steam, stretch and foam in a latte. Plant-based milk exhibitors confirmed so far at lunch! include Glebe Farm Foods, Califia Farm, MOMA Foods and Sproud.
The global vegan cheese market size was valued at $2.43 billion in 2021. Arguably, vegan 'cheese' has always been one of the most difficult alternatives to match up to the real deal – but brands are developing fresh flavours and processes. We're seeing variations, from brie to feta and even Camembert. Make sure to meet and sample the latest vegan cheeses from Flagship Foods.
ALT-MEATS
The same Bloomberg report suggests that alternative- meats are set to 'balloon from $4.2 billion to $74 billion' and 'brands like Beyond Meat (Casual Dining exhibitor) have largely contributed to the surge in growth'.
Although plant-based alternatives (specifically meat) have been heavily criticised for being 'overly processed', or 'not so planet friendly', market development is buoyant. It's a win-win for the alt-meat brands doing this right, including confirmed exhibitors so far: Nova Meat, Miami Foods and Jam N Vegan.
A TWIST ON THE TRADITIONAL
The healthy lunch and snack category continues to evolve. To fulfil this, brands are using interesting plant-based ingredients to mimic certain tastes and textures relating to animal products. They are cleverly reinventing traditional snacks and drinks with 'healthier' inclusions.
For example, tortilla chips have been made with kale, spinach or blue maize. And crisps and puffs with veggies, lentils, chia and flaxseeds. Another notable example is soft drinks with natural ingredients. Check out Drink Hip Pop, Tenzing and Jamu Wild Water at the show.
A few exhibitors promoting their 'healthy plant-based' ranges at lunch! include: The Savourists, Mister Free'd, Eat Love Raw, Simply Roasted, Hungry Monkey Snacks, BOL Foods... and that's just the start.
There's still a strong market for dairy-free chocolate and plant-based sweet treats. Exhibitors to see include: Mister Free'd, Yumma Candy, The Coconut Collective, YummyComb Ltd, Islands Chocolate, Pri's Puddings, NOMO, Rhythm 108 and Love Cocoa/Hip Chocolate.
UPCOMING TALENT
Vibrant, exciting and the central 'hub of trends', the Innovation Challenge is back at lunch!. It's the only place to see the best launches of the past 12 months, or freshly launched products.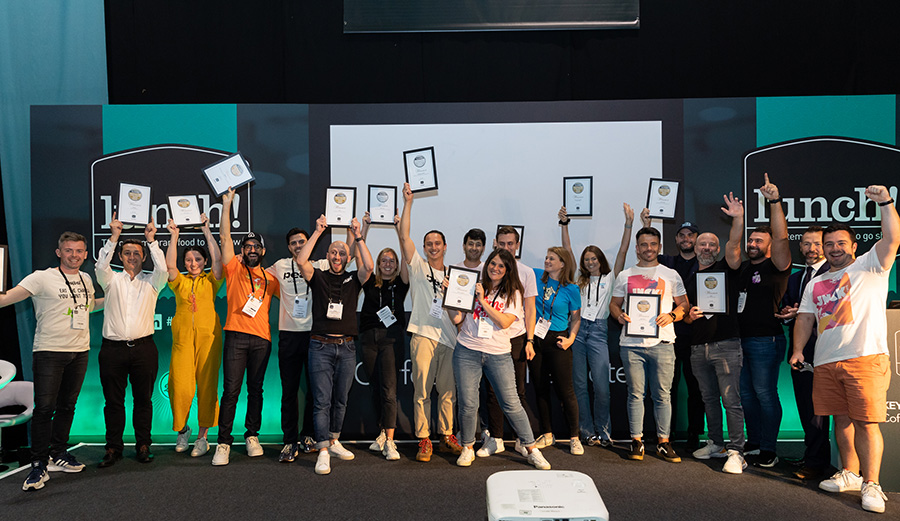 The Innovation Viewing Gallery is where visitors can vote for their favourite products on day one. The shortlisted brands will then pitch LIVE on stage (on day two) in front of visitors and a panel of industry experts – who will then decide if the product deserves a Bronze, Silver or Gold! It's the perfect opportunity to appreciate what's new to market and where the industry is heading. Discover more about last year's Gold winners, Jnck, on page 22.