A cookie with a healthy protein and fibre focus, that tickles the taste buds? Yes, these bites are a reality – thanks to Jnck Bakery.
SECTOR RESILIENCE
There has been a surfeit of new pastries, cakes and traybake delicacies in recent months. Despite the hospitality sector facing huge challenges around the cost-of-living crisis, alongside staffing and ingredient supply issues, the coffee, bakery-led and sandwich channel has outperformed the total eating out market, hitting a massive £10.5 billion in 2022 [Lumina Intelligence].
Post-Covid, people are engaging with friends and loved ones more than ever. The coffee and snack opportunity, at lunchtime especially, is serving notice to operators and providers. However, there's an elephant in the room – where are the healthier sweet treat options?
Many people walk into a café and completely avoid the cakes section. It's stacked with sugar-laden offerings, offering nothing to the health-conscious customer. But there's one brand looking to buck this trend. Two brothers who believe they have a product that tastes great – but has a positive impact on the body. These cookie monsters are ready to shake up the sector with Jnck [pronounced junk] cookies!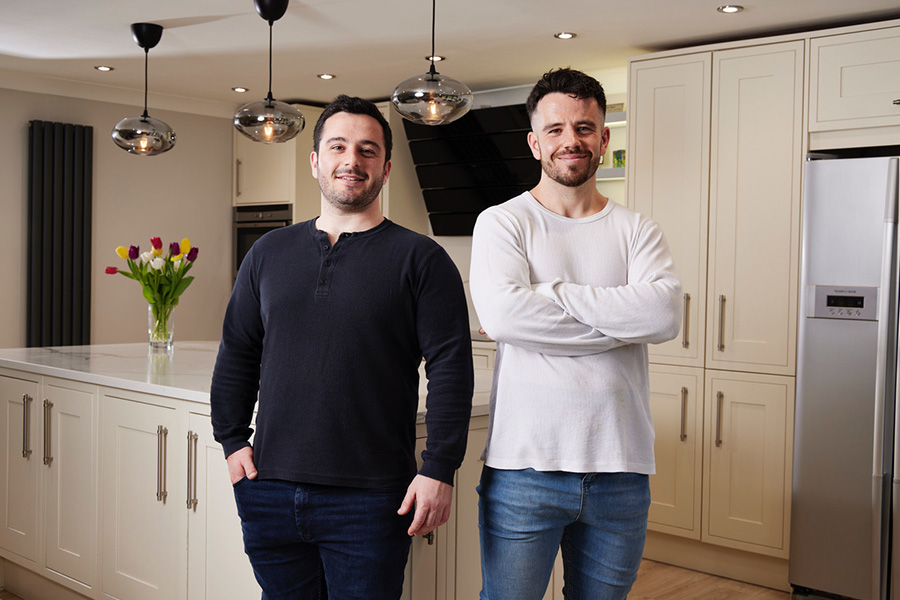 BROTHERS IN ARMS
Alex and Sean Brassill were always destined for a career related to making people feel good. Dad was a doctor and mum a nurse in Manchester, while the boys grew up playing sport and eventually taking part in triathlons. The seed was sown early.
"We never learnt about important dietary stuff at school," said younger brother, Alex [30]. "Eating triple the amount of sugar that we should is not the way to go. The health of the UK really bothers us – and we've always been passionate about bakery."
Previously, Alex worked as head of NPD at Myprotein and global digital innovator The Hut Group, giving him the ideal skills to follow his own path. "I was in innovation strategy and
learned so much about vitamins and ingredients. And while there were amazing confectionery and ice cream brands, the healthier alternative was not there."
Sean [34] had also worked with the Hut Group, but honed strategy and consultancy skills with the Javelin Group, part of Accenture. His skillset complemented Alex's to perfection.
"I'd always had an itch to make a difference – and there was a gap in the bakery market," said Sean. "People just love it. So, I came in at the start of 2022 to handle the commercial and legal side of the business, Alex does product and supply chain, and we share sales and marketing."
ALL ABOUT THE PROCESS
Developing a tasty cookie that's good for you was not going to be easy. The key elements were reducing sugar, adding protein and increasing fibre. But it took Sean around 2,500 trials to get what he wanted.
"Sugar has such a key role in bakery – not only does it provide sweetness, but also texture and colour. I adopted a systematic iterative process using a range of standard ingredients that didn't contribute poorly to the nutritional profile. It was then a case of looking to the world of sports nutrition, to not only replace the functionality, but deliver a great taste. And we don't use palm oil."
This recipe is, of course, top secret. It took 12 months… and a combination of milk protein, pea protein – which has a great amino acid profile – and a sweetness modulator evolved into the Jnck revolution.
"We worked with a fantastic chocolate manufacturer," continued Alex. "And it's been an incredible journey. A key factor is that with increased urbanisation, people want to see food on the go as something nutritionally complete. Consumers appreciate a brand that strips out the sugar but doesn't lose taste and texture. There's also a greater understanding of protein and the key role that fibre plays. People are far more aware of dietary science."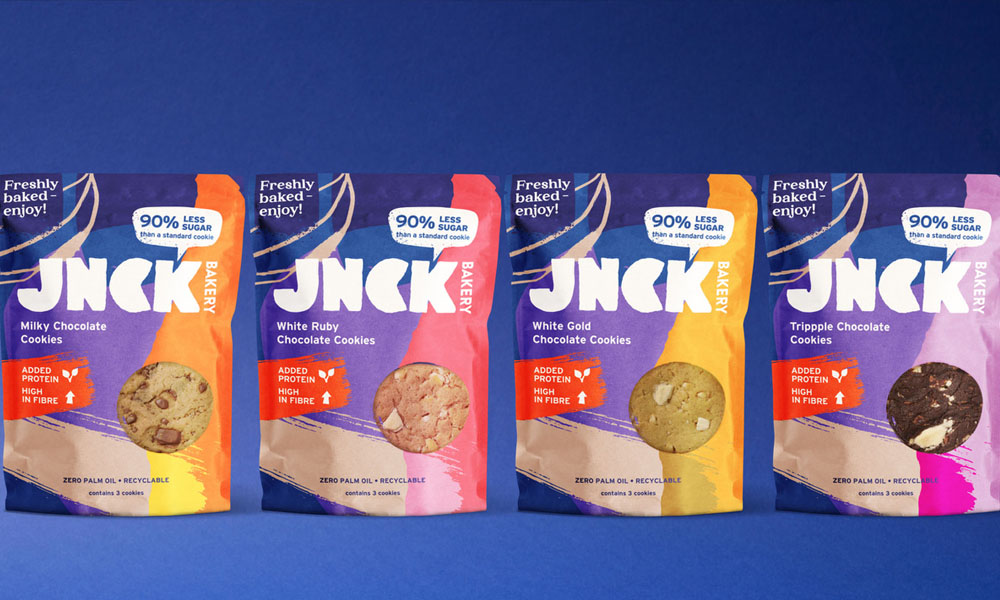 PURCHASE OCCASION
Jnck Bakery's mission is to create fresh, indulgent treats that are both healthy and sustainable. The range includes White Gold, Tripple Chocolate, Ruby Chocolate and Milky Chocolate, while their website nutritional information shows a comparison to supermarket cookies – and the difference is stark. While there's 1.5g of sugar in a Jnck treat, it's 27.8g down the aisles. Protein numbers comparatively are 8.76g and 3.6g; fibre 10.5g and 1.4g respectively.
The figures stack up – and there's one specific sector Jnck has its eyes on. "The café channel is really exciting to us," confirmed Sean. "Sweet-baked treats are generally full of sugar and butter, but we're removing those barriers. We're opening up a purchase occasion to consumers that avoid the bakery section. With the high in fat, salt and sugar (HFSS) profiling, if a food scores four points or more, it's deemed 'less healthy' – we are on zero, which I think makes us very interesting."
There is certainly a question mark around the healthier claims of big players. Nestle recently withdrew its 'nutritious' branding around Kit Kat breakfast cereal, after former health tsar, Henry Dimbleby, said it was a 'joke'. Global website copy was eventually amended.
"We have a fresh product, that operates on a frozen supply chain – we are disrupting the sector, while building a great team and operating on a partnership basis," said Sean. "Transactional relationships are not for us. We only want those that believe in the mission to redefine what it means to consume junk food."
MAKING WAVES
Despite being only 18 months old, the business is already enjoying the fruits of its labour. There has been a Food and Drink Award at the Food Entrepreneur Show 22, plus being chosen as a finalist at the World Food Innovation Awards. But Gold at the lunch! Innovation Challenge last year was extra special.
"We consider lunch! as the leading food to go show, having visited in 2021 and been impressed by the quality of speakers and attendees. Then our contact there, Vicki Balfour at Diversified Communications, pushed us to enter the Innovation Challenge, while we were publicly launching the product," said Alex.
"It was our first experience of being exposed to the public, so we were nervous, but quietly confident. The win was a big stamp of credibility for sales/investor relations and gave us a lot of self-belief. And we're back there this year [check out our preview on page 18].
Jnck cookies can be found on gopuff.com at £2 (48g), in fully recyclable packaging. "The online business is performing really well," said Alex. "We feel buoyed and proud of what we are doing. I have access to consumer insights and understand those independent brands that have laser-minded focus on one vision – they tend to resonate with customers more appropriately. As the first to market with this concept, change is coming. And we have plenty more to offer."