Address:
Units 20-21
Lordswood Ind.Est
Revenge Rd
Chatham
Kent
ME5 8UD
Sales Contact: Glen Ochman
Phone: 01634 684148
Mobile: 07975 529691
E-Mail: This email address is being protected from spambots. You need JavaScript enabled to view it.
Web: www.stephensfreshfoods.co.uk
About Stephen's Fresh Food Ltd
Stephens Fresh Foods is a cooked meat manufacturer based in North Kent. We specialise in cooked ham for the trade (especially sandwich makers). We are happy to develop specialised products for customers. We like to consider our development ideas are ahead of the game too – for example, we reduced salt levels in our products as early as 1986! We can cope with orders small and large.
The company is still a family owned and run business. Stephens started in London over 40 years ago until 1985 when we moved to a new purpose built, multi-temperature facility in Chatham, Kent. Here we were able to concentrate full time on curing, cooking, slicing and packaging traditional hams. Now the business manufactures an even more extensive range of protein offering. As you would expect from a top class, BRC accredited, cooked meat manufacturer. As well as our original recipe hams we now include beef and turkey ranges.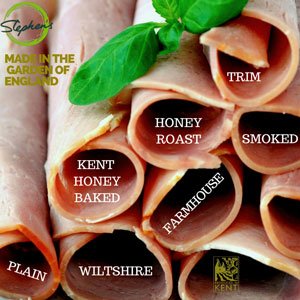 When you buy from Stephens, you can be sure of getting a tried and tested product that hits the quality mark above all other considerations. What's remarkable is that we can do all this while still appreciating the commercial needs of the modern business. You'll find our prices are always competitive.
The good news keeps on coming, because we also stock a huge range of directly imported continental charcuterie from Italy, Spain and Germany. All in all we are the one stop shop, large enough to cope, small enough to care, equipped and qualified to support all the needs of our business partners.
To discuss the supply of both traditional English style cooked meats and exciting continental cured meats why not get in touch. You can download our product brochure from our website or call us direct. We'd love it if you got in touch or visited the website today.